Laurel Pigeon
Columba junoniae
AKA: White-tailed Laurel Pigeon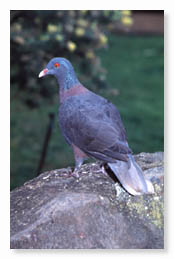 ©Curious

©The European Commission
Distribution: Inhabits the scub covered slopes of the Canary Island which is a mixed growth of pines interspersed with laurel & other shrubs. Has also been seen feeding in the open & cultivated areas.
Description: (Hartert 1916) Length 37-38 cm. Forehead, face & throat dark grey with traces of mauve or green iridescence. Back of crown, nape & neck mainly iridescent green shading to iridescent reddish purple on the hindneck & upper mantle & wine red on lower breast & belly. Back & wing shields dark grey brown; lower back & rump dark bluish grey shading to a lighter bluish grey through the central two tail feathers. Outer tail feathers dark brown grey or bluish grey with broad ill defined whitish tips. Eyes orange to yellowish white; eye lids red; narrow reddish purple eye cere; Bill wine red or purplish red at base & has a creamy white pr pinkish white tip. legs & feet red to greyish purple. Females average a bit paler in the reddish-purple neck & breast area. Juvenile duller brown overall having rusty brown or rusty buff feather fringes on the wing shields.
Nesting: a single creamy white egg is laid; incubation 18-19 days; fledging similar to the Bolle's Pigeon of about 30 days.
NOTES: This species when in flight or seen from below can be easily distinguished from the Bolle's Pigeon by it's blue grey & wine red belly coloration & the pale white tail band.

Table