White-tailed Laurel Pigeon
Columba junoniae
Justification
This species has a small, severely fragmented population. Although precise data are lacking, continuing declines are likely as a result of high levels of nest-predation. This combination of factors qualify the species as Vulnerable.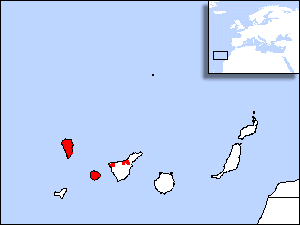 Threats
On Tenerife , nest-predation may be the most important threat1. From a sample of seven nests, two were successful and the remainder were predated, primarily by black rat Rattus rattus. Predation of artificial ground nests was also very high1. Habitat loss has been extensive. Laurel forests have been intensively exploited since the 15th century. Although the decline in their area has slowed, laurel forests have been fragmented in recent decades owing to an increase in the demand for wooden poles and tool handles for agriculture. A recent decline in fruit farming, particularly on La Gomera, has reduced food availability. The concentration of birds at a few water sources makes them vulnerable to illegal hunting. Newcastle 's disease is a potentially serious threat, but its current impact is unknown.
Conservation
It is fully protected under Spanish law. Many protected areas have been established, including Garajonay National Park (La Gomera), El Canal and Los Tiles ( La Palma ). A project is underway with the aim of conserving this species and C. bollii. An action plan was published in 1996.
Targets
*Conduct a census and initiate monitoring. *Investigate factors affecting breeding performance. *Purchase important sites. *Promote the restoration of laurel forest. *Avoid further damage to laurel forest from commercial forestry. *Implement alternatives to commercial forestry. *Control illegal hunting.
Use Your Browser's Back Button to return to the Previous Page